Weapon
N-Strike Deploy CS-6
Introduced & Produced: 2010
Manufacturer: NERF
Ammunition Type: Streamline Darts
Feed System: 6 Round Clip
Type: Full Auto
Secondary Fire: None
Accessories: Flashlight
Appearances: Various Gun vs Gun Episodes
The N-Strike Deploy CS-6 is a rifle released in 2010 by Nerf under its N-Strike series.
The Deploy CS-6 is mostly seen used by Danny in multiple episodes in the epic battle filled YouTube channel Gun vs. Gun, but is sometimes used by his brother, Tommy.
Characteristics
Edit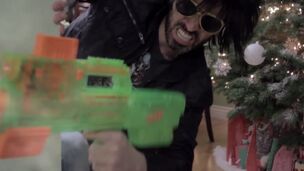 The Deploy in an unmodified form is a single-fire Nerf blaster. With GunVsGun's illegal mod however, the Deploy is capable of fully automatic fire making it a truly formidable toy indeed.
The Deploy is primarily seen in a traditional N-Strike colour scheme of yellow, orange and black, although Danny did paint it to have more emphasis on black. However, Tommy was seen in "Christmas Eve Nerf Deploy Symphony" to be using a 'Sonic Series' Deploy, granted to him by Santa. This particular Deploy was later signed by both Tommy and Danny and supposedly shipped to a particular fan named Zack, complete with illegally-modified darts.