Welcome to the GunVsGun Wiki! Here in this wiki, is everything you need to know about GunVsGun, providing facts and trivia updated fresh and daily. By now, their main channel, GunVsGun has more than 4 million subscribers, while amassing 1 billion views.
Disclaimer: Please note that this wiki is not affiliated with the official GunVsGun Channel, nor with their sub-channels (Terrible Tommy, Nerf Danny, etc.) in any way, and so will not respond any comments directed towards the people in the channel.
GunVsGun channel description:
"Nerf war videos by Nerf bros GunVsGun! The craziest Nerf wars on YouTube! If you love Nerf blasters you will love the GunVsGun channel. Our epic Nerf videos are loaded with Nerf blasters, crazy action, and twisted comedy. Whether in our Nerf unboxing and review videos or in our all out Nerf battles action is non-stop. This ain't no Nerf gun game... we're playing for keeps! So if you want to be prepared for the Nerf Zombie Apocalypse watch and learn how to be a deadly shooter. Feel like you're the one doing the shooting in our Nerf First Person Shooter videos FPS style! Like Call of Duty but with Nerf blasters! Oh and make sure to subscribe to GunVsGun for future Nerf videos!"
Latest Video Uploaded
Edit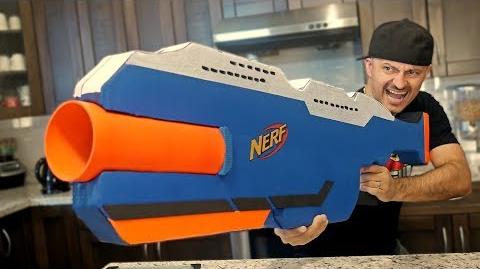 NERF shrink BLASTER
In today's GunVsGun Nerf War video, Tommy Gun attempts to shoot out all of Danny's spy-cams as a feat to destroy his oppressive surveillance system. War breaks out between the brothers as soon as Danny figures out his motives. Tommy Gun was winning against his "newb" brother as always, that is, until Danny acquires a different, special type of Nerf gun - the Shrink Blaster. Watch and find out the ending!
Tommy Gun's gaming channel, not as active.
Danny Gun's vlog/showcase channel, not as active.
Nerf arsenal showcase/vlog channel for both of the Bros, currently active.
Family friendly channel, starring cartoon characters from DC and Marvel, such as Batman and Superman. It is not as active.
Note: There is no blood shown during the gun-fight scenes in this channel, and computer graphics (CG) has more subdued usage. Profanity is also less commonly used.
Defunct channel. Previously starred Tommy Gun's alter ego, RockerCyborg, replying to his viewer's messages.